DILDO LOVING PINAY MAKES PORN KINKY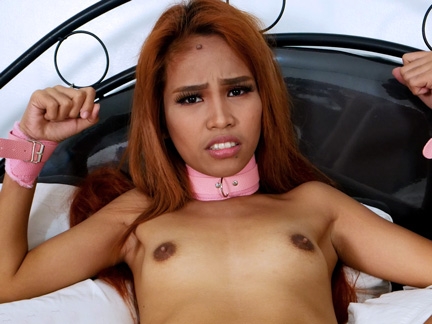 In her latest hardcore sex scene, Rose Fabela brings her toys to make porn kinky and hot. Of course, it adds some spice to her video. Most importantly, it gets our members to rock hard and want to fuck her. Fortunately, Rose loves to fuck.
Our readers will remember her debut hardcore fuck scene, and as well you should. You see, she was kinky from the start and shows no sign of slowing down. What can we say, this horny Filipina likes spice in her bedroom activities.
First, Rose shows us her toy collection, which is pretty extensive. Next, she shows us the best way to use them on her. Ultimately, it is a big cock that she wants, but her toys will do for now. Furthermore, she likes being tied up, bound, and gagged. Now, that's pretty kinky.
On this occasion, her plans unfold in a way she desires. In other words, tie her up and fuck and the girl is happy as a lark. Of course, even a lark has some limits. Simply put, you will love Miss Rose, she is here to please.
Although Rose loves her toys and restraints, the bottom line is getting fucked. Needless to say, she gets her horny pussy stuffed to the brim. Additionally, her lucky stud gives her a creampie that oozes out after the fuck. Don't miss this hot new scene featuring one of the horniest porn kinky stars you will ever see. Also, be sure to check out our Official Trike Patrol Podcast where we interview your favorite Filipino sex stars and a whole love more.