BBC LOVING MILF FILMS HOT BRUNETTE PORN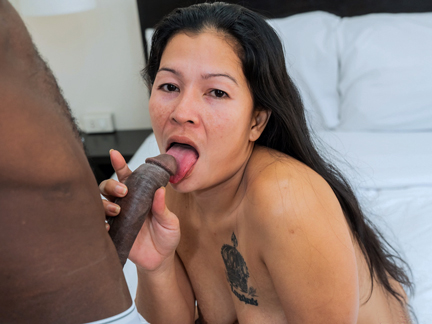 Nothing beats a Filipina milf filming Hot Brunette Porn. Unless of course the milf is blonde. Nonetheless, watching mature Pinays get dicked down is a thrill. In this situation, we have just that.
Turns out, out lucky BBC stud found the perfect hotmom. At first, she was a little shy. However, it didn't take long for her to loosen up when she saw his cock. Especially the size and length. Fortunately, she had plenty of experience with sizable erections.
Once she got his big throbbing member in her mouth, things snowballed from there. Admittedly, he had a monster cock. Even though it fit in her mouth, a tight pussy was a different thing.
Despite the fact this hot brunette had never had BBC, it fit snuggly in her horny twat. Once she mounted him and slowly went down on his long shaft, the sparks began to fly. After a myriad of sex positions, the porn outings was epic.
After a thorough tongue lashing of his BBC, she was ready to fuck. As is the cast with many Filipina, doggystyle was the position of choice. Not only did that BBC feel good in her horny pussy, her stud was panting loudly from the start. So, hold on folks, this is intense hardcore you must see and stroke to. Also, be sure to follow Trike Patrol on X (formerly Twitter) for all the best hardcore Filipina sex scene and a whole lot more.