LUCKY STUD GETS COWGIRL PUSSY ALL DAY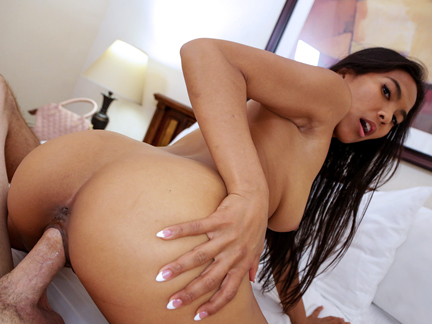 Many consider Cowgirl Pussy to be the best. Of course, if you ask beautiful Filipina Jada Kai, she might say give it to me fast and hard. Needless to say, she does favor cowgirl fucking, as well as reverse action. You see, Jada is not only very beautiful, but she is also very horny.
In this situation, Jada is minding her business while reading a book in the park. Naturally, we had to get to know her. Turns out, she has a beautiful personality to go with her gorgeous looks. Little did we know what a total freak Jada is. In fact, once in bed, she is a stone-cold sex addict. That's right, this Pretty Pinay got good pussy all day long and loves to fuck.
For sure, the plan is to find her for all she is worth and do it in every position. However, with an ass as sexy as hers, reverse cowgirl position seems like the best view by far. Therefore, sit back and enjoy the ride as they say, from here it is smooth sailing.
In addition to her wet horny pussy, Jada has a hot body with a great ass and shapely tits. As mentioned, the lady is horny and needs a good stud to satisfy her. Could you be that guy?