STUD DUMPS LOAD IN BLONDE SEX SCENE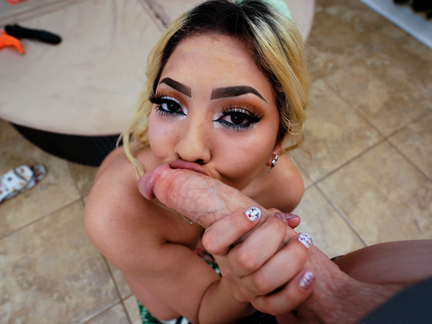 Beverly Snow is perfect for this Blonde Sex Scene. In fact, her stud got so excited he could hardly hold back his load. Of course, one look at this sexy new model says it all. Simply put, this lusty Filipina babe is drop-dead gorgeous.
Of course, before your heart stops ticking, be sure to get in some good strokes for her. Needless to say, Beverly is a girl that will give you an instant erection. In other words, if your dick doesn't get hard, check your pulse.
Previously, Beverly was a fashion model by trade. Turns out, she has always wanted to fuck on film. Subsequently, she headed straight to Trike Patrol to offer her services. No doubt, this dirty blonde sex star had the part the minute she made the call.
Right away, her on-screen presence was magnetic. According to her stud, his dick got hard the minute he opened the door. Point is, bring a strong hard-on if you want to go the distance with this young Pinay.
During her blonde sex scene, Beverly opened with a seductive striptease. Next, she affixed her sweet lips to her studs cock. Clearly, her oral expertise is on full display. Already, her stud is excited and ready to jump into her hot pussy. As was mentioned, this sultry newbie is perfect for this video. From start to finish the energy and excitement are on high. Safe to say, her debut fuck film was a smashing success. Now, it's your turn to jump in and join the action. No doubt, you won't want to miss this Filipina porn scorcher. Also, be sure to check out our new
Oficial Trike Patrol Podcast
with model interview and a whole lot more.